MODULAR YOUTH PROGRAM
Building on the proven CO.STARTERS model, CO.STARTERS Generator is a modular program that helps teens explore their passions through generating, testing, and launching ideas.
With the ability to choose which modules are best suited to your timeframe and context, CO.STARTERS Generator is a great way to inspire youth with the vision, enthusiasm, and tenacity needed to move from idea to action.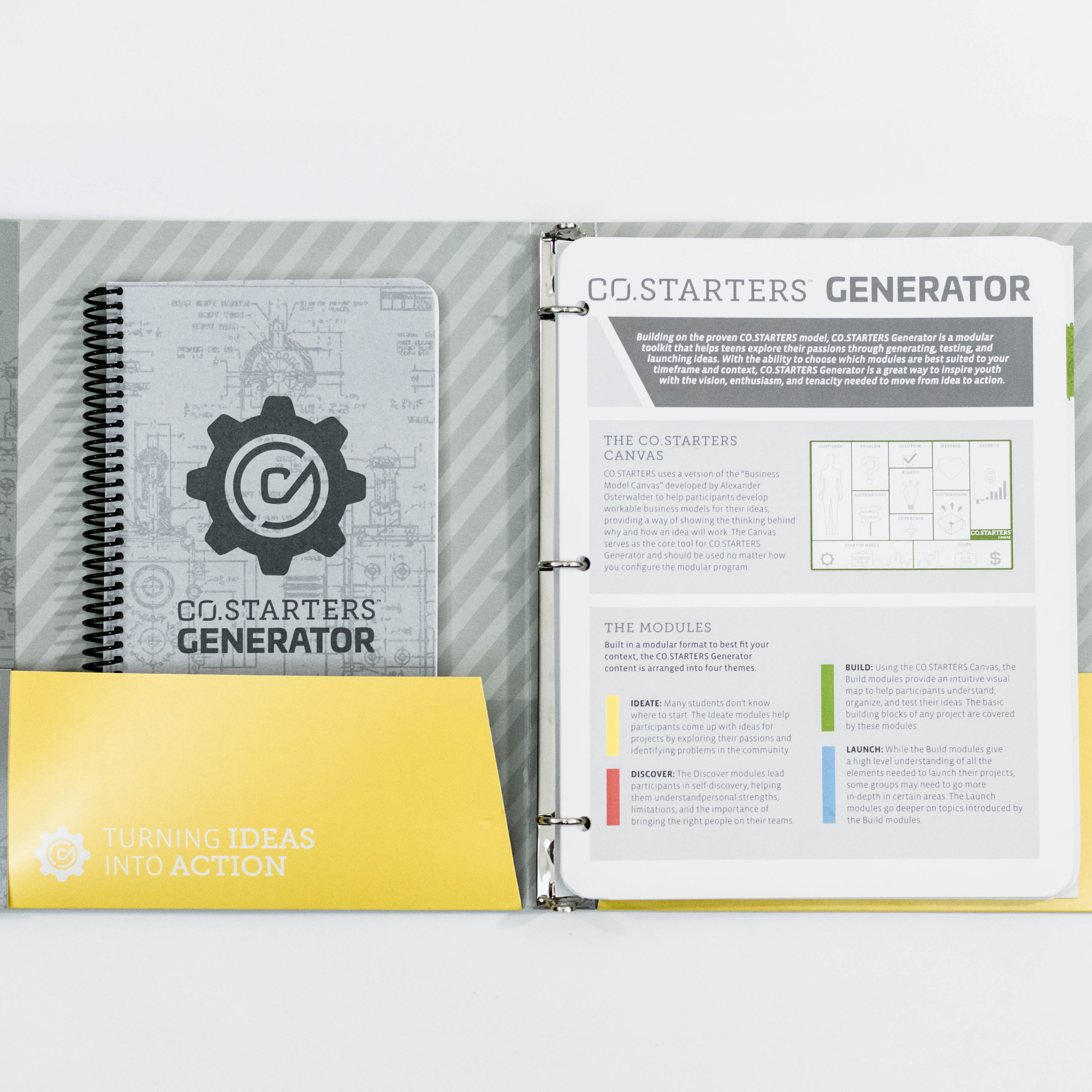 IDEATE:
Many students don't know where to start. The Ideate modules help participants come up with ideas for projects by exploring their passions and identifying problems in the community.
DISCOVER:
The Discover modules lead participants in self-discovery, helping them understand personal strengths, limitations, and the importance of bringing the right people on their teams.
BUILD:
Using the CO.STARTERS Canvas, the Build modules provide an intuitive visual map to help participants understand, organize, and test their ideas. The basic building blocks of any project are covered by these modules.
LAUNCH:
While the Build modules give a high level understanding of all the elements needed to launch their projects, some groups may need to go more in-depth in certain areas. The Launch modules go deeper on topics introduced by the Build modules.
What Participants Get Out of the Generator Program
Pride in having done something real and meaningful

Excitement in exploring their passions

A sense of ownership of the process

A deeper understanding of how to create a sustainable endeavor, i.e. a process for figuring out whether or not an idea is good and how to change it to make it work.

The ability to articulate how their ideas work

The next steps needed to move forward
CO.STARTERS Generator uses a version of the "Business Model Canvas" developed by Alexander Osterwalder to help participants develop workable business models. This intuitive visual map helps participants understand, test, and refine their ideas.