WHAT'S NEXT?
Projects we're working on for 2020 and beyond
Growing the Future
Over the past year we've been asking questions and digging deep and working to find better ways to solve the biggest challenges faced by the people we are here for: starters and the people who support them, locally and at large.
At our annual member gathering in October 2019 we announced a series of exciting launches we'll be rolling out over the next year that will revolutionize the ways we are able to accomplish our mission of helping communities thrive through entrepreneurship.
Watch this space for the latest on the progress of each of these launches.
Upgraded Curriculum
Our foundational program made even better
The new CO.STARTERS Core is more flexible and customizable to fit any local context. Building on years of proven success and user feedback, our cohort-based, turnkey program for aspiring entrepreneurs provides the foundation or fuel for a thriving ecosystem.
UPDATED CONTENT + FLOW
In this new inclusive version, we've reorganized the content to break up intense topics and incorporated some of the best community-building activities from our rural and urban versions to create a more robust offering.
MULTIPLE PATHS FOR DELIVERY
New optional plug-in sessions (show & tell, advising hours, and "pitch" practice) provide multiple recommended paths for sequence and schedule, allowing you to choose a 10-12 session program to best address your community's needs.
MORE WAYS TO ADD CONTEXT
Updated content provides greater opportunities to discuss the local context. If greater customization is required, each session has a designated section that can be swapped out for member-generated content.
Accessible Membership
More ways to join, easier access
Now there are more ways to join the CO.STARTERS community and access the support you need. From individual memberships to add-on options, anyone can now access resources to start immediately supporting entrepreneurs in their community. 
INDIVIDUAL MEMBERSHIP
Access training and tools earlier and easier with an individual Ambassador membership.
MONTHLY PAYMENT PLANS
Pay your membership in monthly installments rather than one annual fee.
ADD-ON PRODUCTS + BENEFITS
Pick and choose the products and tools you need most with fees based on what you use.
Integrated Platform
A comprehensive dashboard that connects all the dots
Through a partnership with Startup Space we are building an online platform that will make it easier and more effective for community leaders to manage their growing ecosystems, deliver programs seamlessly, and make and capture connections.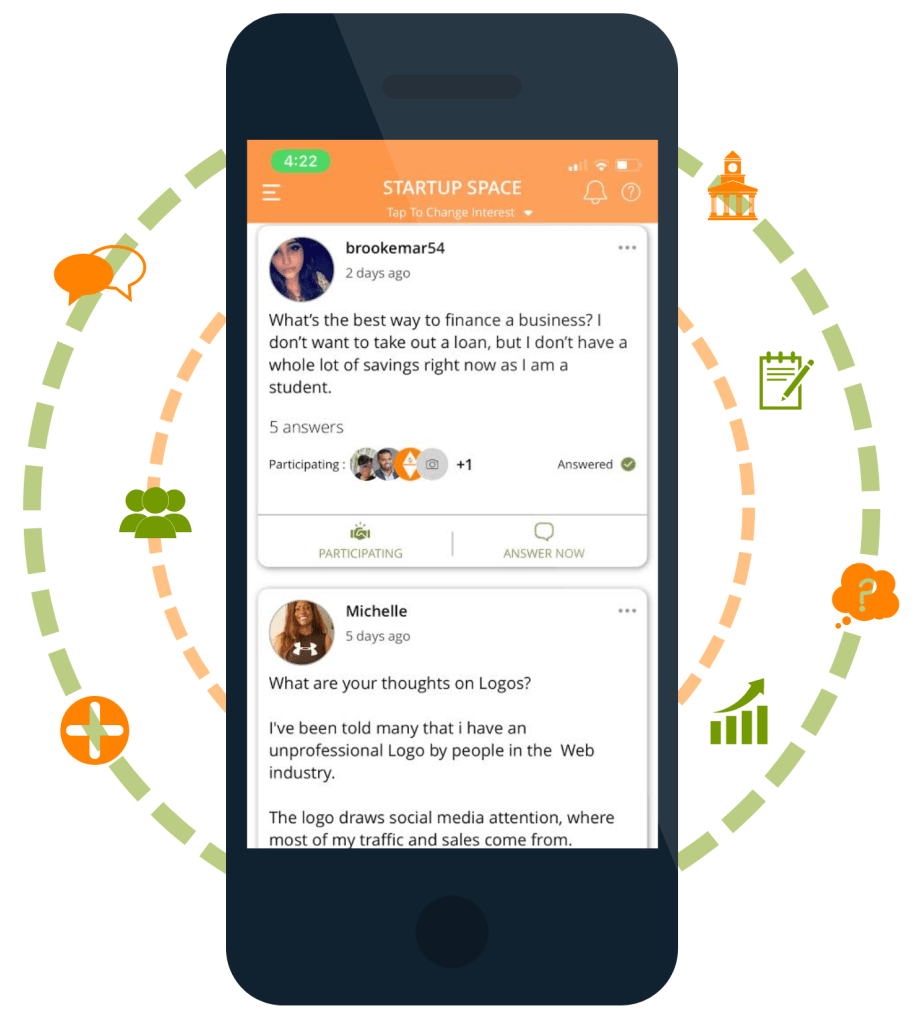 APPLICATION + PAYMENT TOOLS
Promote and manage program applications with ease, collaborate with stakeholders to manage applicants, and request payment effortlessly.
ONLINE COMMUNITY HUB
Empower all the players in your ecosystem—starters, leaders, and supporters—to make connections, find resources, and build relationships through a single platform.
DATA-DRIVEN IMPACT REPORTING
Get a 360° view of how entrepreneurs are utilizing services and gain a full understanding of the touchpoints and valuable resources in your network.
Empowering Brand
Leveraging the power of our connected story
As the CO.STARTERS name and identity has expanded from a program, to a community, to a network, we are adapting our creative strategies to provide deeper support and power a global brand experience that is relatable, understandable, and transformative.
BADGE IDENTITY SYSTEM
Use embeddable CO.STARTERS badges to connect your local brand to the global identity.
EXPANDED MARKETING KIT
Access an expanded set of guides and tools to help with local branding, marketing, and promotion.
CREATIVE HELP DESK
Sign up for individual sessions with our creative team to get advice on specific branding and marketing challenges.
Paths to Capital
More ways to find funding
CO.STARTERS is actively working to create pathways to more funding solutions that help both organizations and small businesses realize their potential for growth and sustainability.
GUIDANCE + TOOLS
Get help identifying the best fit for funding as well as practical tools—from sponsorship examples to grant templates—to tap into financial support while also building relationships.
REVENUE-BASED INVESTMENT
Learn about new impact funds that focus on small businesses overlooked by traditional funding models who have significant potential to impact their local communities.
GRANTS + LENDING RESOURCES
Explore connections to alternative solutions such as regional lenders, innovative banking solutions, grant opportunities, and microlending models.
Tools + Ideas
A growing toolbox of community-tested solutions
Our suite of resources for entrepreneurs and communities keeps growing as we work with our network to curate the best existing tools for ecosystem building and identify gaps for new ones.