WHO SHOULD APPLY
If you are an existing small business or entrepreneur who is…
Losing business and customers due to COVID-19
Struggling to figure out how to move forward
Feeling isolated and needing support
Looking for more than immediate assistance
Serious about doing what it takes to save your business
…we are here to help.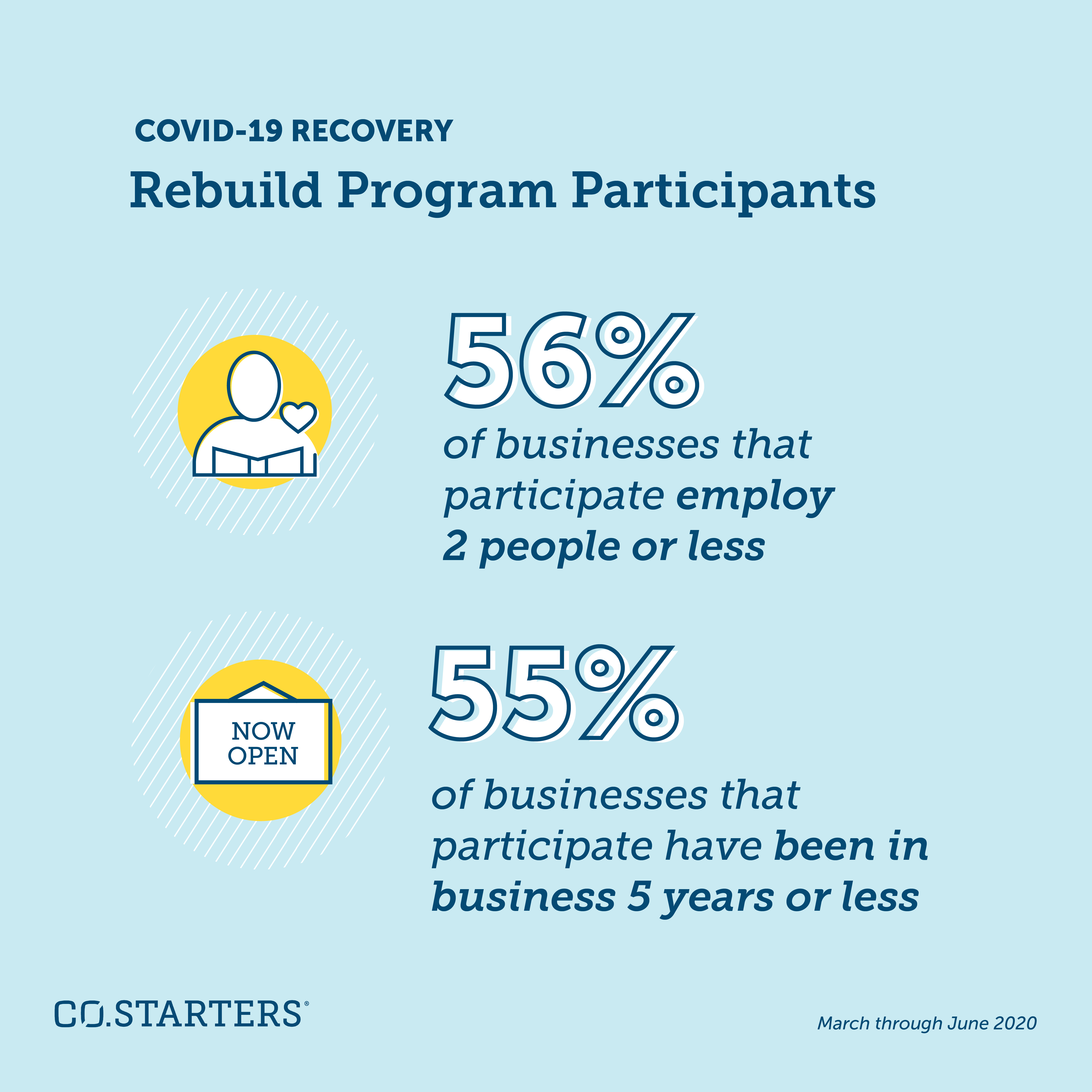 This program helps entrepreneurs…
Confidently move forward with actionable next steps

Adapt in a changing environment

Challenge core assumptions

Find short-term financial stability and take immediate action

Identify long term funding for sustainability

Tap into a virtual cohort of peers during this time of isolation

Connect with guest speakers, mentors & advisors

Access online content and additional resources

Receive ongoing support through a virtual community
Working with a dedicated group of like minded peers in a virtual setting, participants cover the following topics in a series of ten 2.5–hour sessions:
SESSION 1: Assessing Your Situation
SESSION 2: Understanding Your Customer
SESSION 3: Finding a New Solution
SESSION 4: Refocusing Your Marketing
SESSION 5: Exploring Quick to Market Approaches
Move forward for the long term.
SESSION 6: Learning About COVID-19 Laws
SESSION 7: Streamlining Costs
SESSION 8: Setting Recovery Sales Goals
SESSION 9: Planning for Recovery
SESSION 10: Celebration!
APPLICANT FAQS
What stage or type of business will benefit from CO.STARTERS Rebuild?
Grace Newsome
2020-11-10T12:43:51-05:00
Rebuild is designed for existing businesses who are in the operating stage. If someone is in the concept stage and hasn't launched, other CO.STARTERS programs may be a better fit. Rebuild is intended for early or small stage businesses from any industry or market, including solopreneurs or freelancers. It is not optimized for high growth companies or entrepreneurs seeking investment.
"My fieldwork activity this week triggered a business ah-ha moment. I have so much work to do! I understand now, more than ever, the importance of knowing my customer and the benefit. I now have a better vision of my customer identity."
"With the virus kicking back up again there is a fear of being shut down again and not having income. I'm using what we learned in class to prepare."
"I have addressed my fail zone and am taking steps moving forward. I believe this is an opportunity for me to grow my business, even in these times."
"'The program overall was wonderful, but especially when reflecting on where we've come from and the ideas we've developed [through this process.]"
"I'm feeling better about recovery and the leads I have gotten from this group have been top notch."
"I cannot wait to apply these business principles to my business model. I am getting to know my business better than before this program. Furthermore, I am learning that I have more control over my business than I realized."
"Rebuild gave me something tangible to work on. I've had ideas and half-executed a handful of them. The Rebuild Program was helpful and forced my motivation to complete projects and really look at my business."
UPCOMING COHORTS
Rebuild is offered for specific communities through our network of regional and local partners. Schedules, costs, and requirements may vary.
Rebuild is offered regionally through these local providers: