After nearly a decade of solely focusing on products and strategies to support new entrepreneurs, we at CO.STARTERS have expanded our focus to include existing businesses. This shift has been a long time coming, but it was certainly accelerated by the economic effects of COVID-19. 
Adaptation is a learnable skill.
The chief mission of our Rebuild program is to teach entrepreneurs how to adapt to changing circumstances, changing customers, and changing problems. Businesses that are unable to change have short lifespans. A massive force like Coronavirus can really put a business's adaptability to the test. 
Entrepreneurs are made, not born.
While some psychological metrics might suggest that adaptability—or openness to change—is something you either have or you don't, we at CO.STARTERS believe in adopting a growth mindset regarding entrepreneurial skills. Entrepreneurs are made, not born. 
With that in mind, we had no qualms about designing a program that would teach business owners how to think adaptively; sure enough, by the end of the program, 94 percent of Rebuild participants believed they could adapt their business to a new challenge—a 37 percent shift from what they believed at the start of the program.
A participant from our cohort in Summit County, Colorado corroborated this finding: "It gave me something tangible to work on. I've had ideas and half executed a handful of them. The Rebuild [program] was helpful to use and forced motivation to complete projects and really look at my business."
Rebuild helps relieve loneliness in entrepreneurs. 
Entrepreneurs, particularly in this moment, are on their own—literally and metaphorically. In many states, government funding for business relief is running out. Most small business owners are experiencing significantly different challenges from others in their social circles. 
One of our main missions in creating the Rebuild program was to restore a sense of camaraderie for entrepreneurs by providing them with a group of peers they could relate to and learn with. In addition, we believed that delivering the program through a local provider, such as the local SBDC or Chamber of Commerce, would help entrepreneurs feel more connected to their community and the ongoing support systems in place for them. 
We saw the fulfillment of this mission in our pilot Rebuild cohorts, with 94 percent of participants reporting satisfaction with their peer group. Likewise, 82% of participants agreed with the statement "I have the connections I need to move my business forward," a significant improvement from just 27 percent at the start of Rebuild.
One participant from Alabama shared, "My facilitator's business experience, knowledge, and encouragement, the CANVAS tool, and my fellow participants helped to drive me to a new level of confidence."
Rebuild shows promise for saving jobs and stabilizing revenue.
At the start of the program, nearly 50 percent of Rebuild participants reported some loss in staff due to COVID-19. However, Rebuild has aided 85 percent of participants in maintaining or growing their staff throughout the course of the program. 
By the end of the program, 94 percent of Rebuild participants believed they could adapt their business to a new challenge—a 37 percent shift from the start of the program.
On a similar note, 97 percent of participants attributed to the pandemic either a decrease or complete halt in revenue. The Rebuild program enabled 80 percent of participants to maintain or increase their earnings through its duration. 
From these data points, we can project with optimism that the methods and models of thinking that Rebuild teaches will have tangible effects on the economies of our member communities. 
This comes as little surprise to us, as the Rebuild program model is based on the proven tools, processes, and frameworks we teach in our CO.STARTERS Core curriculum.
A significant number of jobs and revenue within a local economy can be attributed to small businesses in the community. With the help of a program like Rebuild, communities can halt the evictions, shuttered doors, and bankruptcies that have become commonplace for our small businesses in the past few months.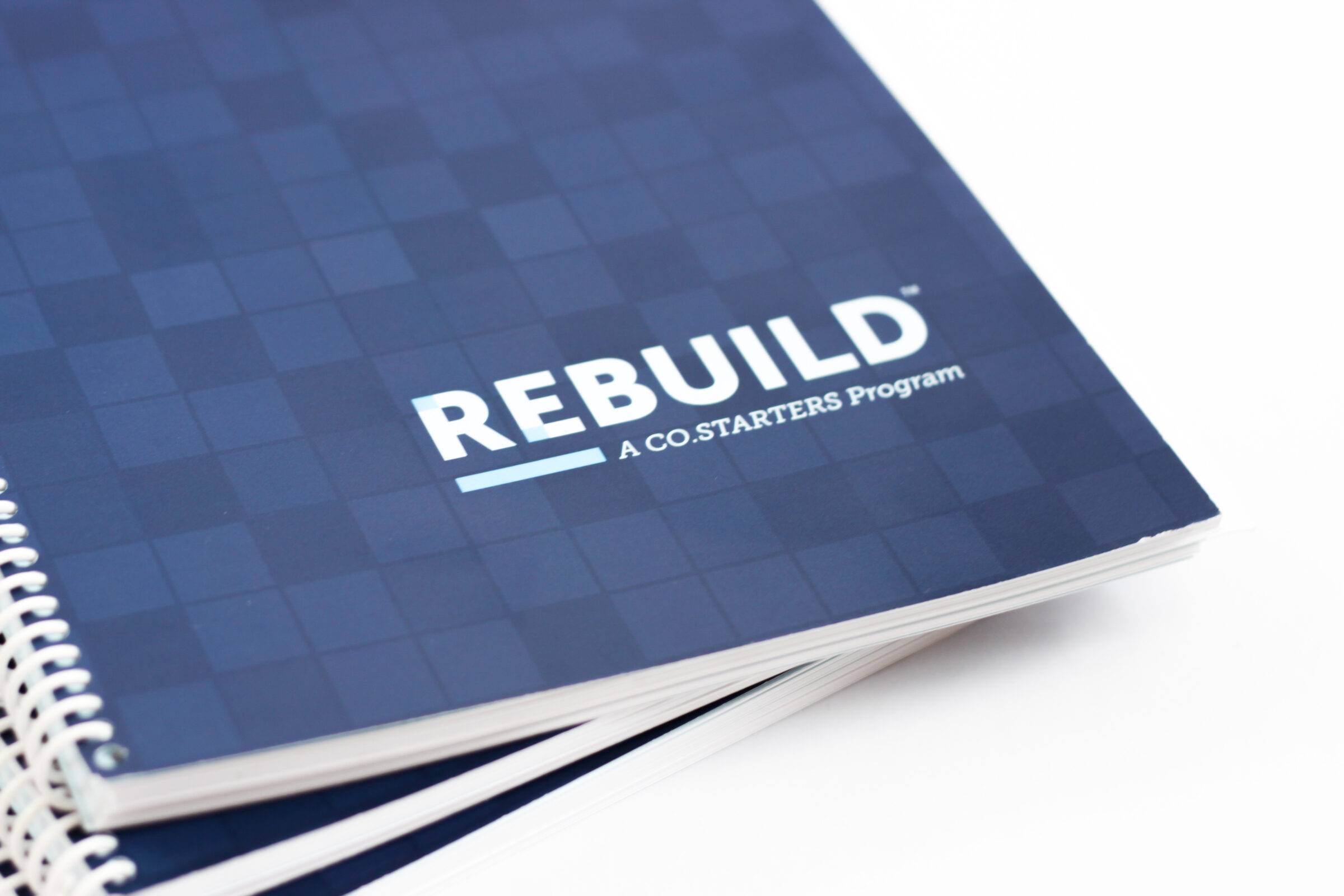 Equip small businesses in your community to adapt and rebuild.
Learn how you can bring our proven peer learning programs to your community. Sign up for a free discovery session today.